Free the genius. It's one of my favorite sayings because it fits my clients: highly motivated, successful people. People with the passion to start businesses or rise in corporations often get stuck. Especially during challenging times, the strategies and behaviors that worked before fail now. To free the genius within, achievers must get out of their own way. They must identify and discard ingrained habits that have become roadblocks and practice more efficient ways of working and leading.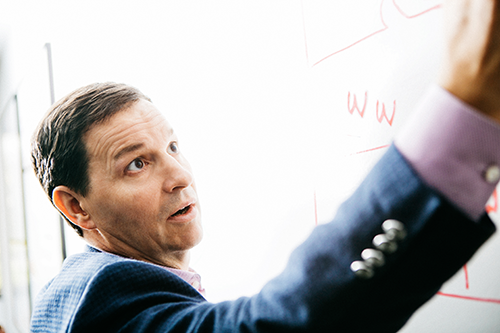 Fortunately, no matter your age or circumstance, we already have the equipment inside us to learn, change and succeed. I've known that all my life, even as a kid in rural Hoopeston, Illinois, population: 5,965. Recognizing the talents within us was the message of my high school valedictorian speech. My anecdote was the Wizard of Oz. (Hey, I was 17 and a state away from Kansas.) I told my graduating class that ability and potential were theirs already, just as the scarecrow, tin man and lion had brains, heart and courage all along.
Raised in a brick farmhouse among 450 acres of soybean and corn, I started my career among the bustling streets of the Bronx and Harlem. I was 22, never before east of Ohio and trying to sell Procter & Gamble (P&G) soaps and shampoos to the stressed, "no time for you kid," owners of supermarkets, chain stores and bodegas. And sell I did. Using my farm boy roots, I purposely stood out and eased from making a sincere impression to creating trust, closing deals and delivering on promises to help them build their businesses. Learning and practicing these fundamentals of selling and influencing — basically to listen and to connect — has been the cornerstone of my success and leadership training.
Promoted to regional sales manager for P&G, I then earned an MBA at Northwestern University's Kellogg Graduate School of Management. As general manager for a transportation company, I discovered that I could create situations where people could thrive. Over-expansion threatened to cripple the firm. By upgrading software, streamlining workflow and hiring new talent, I gave staff the breathing room to creatively recruit and care for clients. Revenues more than doubled to $200 million in two years.
This knack for finding solutions would become my life's mission, applied to thousands of individuals and scores of Fortune 500 companies since I started my firm in 1996. My business consulting approach boils down to helping achievers discover the insights they need to shed limiting behaviors and seize opportunities. Work smarter and dream bigger. Immersing myself in coaching theories, I custom designed an approach that borrows the best of different teachings — with a few twists thrown in.
My wide umbrella curriculum works in even the most challenging situations. Knowing where and how to focus your energies is key. So, along with traditional notions of executive team alignment and organizational development, I introduce mind-body techniques like yoga and meditation. It's all designed to get you to stop and pay attention to circumstances as they really exist, not as you may filter them. I like to say that I help you grind a new set of lenses, change how you see situations and interpret information so that your choices and actions are more productive and profitable.
This serving of the bottom line also makes people richer in other ways. Business and life improve when I help brilliant thinkers to communicate, procrastinators to plan, workaholics to delegate and loners to collaborate. It's all about freeing the genius within — and letting him take you to the places of your dreams.